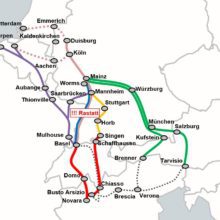 A group of 30 rail and logistics associations have sent an open letter (which can be found here) to the European Commission and to the Transport Ministries of all European countries, urging for structural changes and processes that are needed to make intermodal logistics more robust and reliable.
The letter cites 8 areas for improvement including:
Risk management and contingency plans.
A crisis management structure to be put in place.
The overcoming of national obstacles, such as communication issues.
International co-ordination of infrastructure works to minimise impact of issues such as Rastatt.
Operational cross-border management to make a cohesive response across the network.
Incentives to minimise rail disruption.
Establishment of an international rail platform to examine the crisis and facilitate co-ordination with involved parties.
Immediate financial relief for the sector to counter damages caused through the incident.