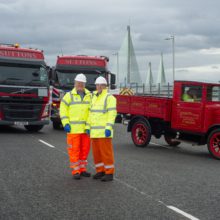 The Widnes based company took the opportunity to take one of its new Euro-6C 6×2 Volvo tractor units for a drive across the bridge, part of The Mersey Gateway Project which covers over nine kilometres of road improvements across Halton.
Three generations of Suttons were represented with a Morris Flatbed which dates back to the 1920s and a vehicle with Union Flag Livery to honour the Queen's Diamond Jubilee in 2012 joining the new Volvo on its special trip.
Suttons Group will be one of the largest users of the Mersey Gateway and John Sutton, CEO Suttons Group said:
"More than 55 years ago, Suttons vehicles were amongst the first to cross the existing Silver Jubilee Bridge. Now our trucks are once again leading the way, proudly crossing the new Mersey Gateway with the latest vehicle which forms part of a £17m investment to improve and grow the fleet.
With our head office and main depot in Widnes we are expecting to make around 30,000 crossings every year.
The opening of the new bridge will hopefully remove the congestion this region has suffered from over the last few years."
Suttons operates in the UK with a fleet of more than 500 vehicles focused on the chemicals, gas and fuel sectors and internationally with key business centres in New Jersey, Houston, Chicago, Widnes, Antwerp, Ludwigshafen, Kuantan, Singapore, Shanghai, Tokyo and Khobar.