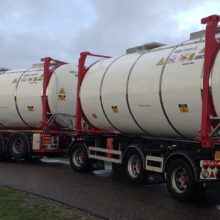 The world-leading exhibition will be held for companies associated with the container and intermodal industries and covers all areas of container transport and logistics across road, rail and sea.
"We work hard on the brand awareness of Tankwell as the supplier of tank containers made of composite", says Tankwell. "We endeavor to get our audience acquainted with the tank by seeing it 'live' and enable them to inspect the quality and details of the tank. This exhibition is a perfect tool to reach our target group again. The tank will be located at the main entrance of the RAI. Our people will be at the show during the course of the exhibition and can be reached for a meeting by phoning our main telephone number: + 31 181 233588."
"So far more than 200 Tankwell tanks have been introduced successfully into the food and chemical logistics chains and mid July 2017 Tankwell has moved to larger premises in Holland to extend their production capacity and to improve the efficiency of the manufacturing process. Another step into the future to which we are looking forward with confidence", concludes Tankwell.
NB: Bulk Distributor will also be attending Intermodal Europe 2017 and would welcome any meetings to discuss the state of the global container market and supply chain.