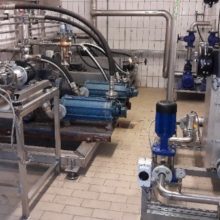 Following a market survey, Klaeser decided to select Gröninger for the job with the plan to keep the down time of the facility to a minimum. This challenge required proper preparation, with the main challenges being the existing building structure and the complete renewal of the control panels and cabling.
The first challenge tackled was to prefabricate as much as possible on a skid which could be positioned and commissioned quickly. As Klaeser cleans a lot of latex tanks, the installation of a stand-alone latex cleaning unit was also essential.
This project showed that when two companies strive to a common goal challenges can be overcome. Flexibility and good cooperation were the key that led to a new tank cleaning system, enabling Klaeser to clean their tanks to the latest industry standards.