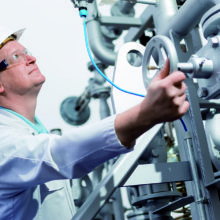 "This development illustrates that we're consistently pursuing our strategy of only investing in our own core strengths," says Mark Lamberti, CEO of the South African parent group, Imperial Holdings Limited. "Imperial Logistics has huge expertise in the fields of transportation, third-party logistics and warehousing as well as in the synchronised management of flows of goods and information. Imperial Logistics will expend these skills at an international level in future. The high degree of specialisation and the capital intensity of contract manufacturing for the chemical industry don't match our goal of reducing capital intensity. There aren't any operative or financial synergies between contract manufacturing for the chemical industry and the other activities performed by Imperial Logistics either."
A separate agreement allows for AECI to rent four warehouses that are adjacent to the Schirm production site at Schönebeck (Elbe). During a period of one year from the signing of the agreement, AECI has the option of purchasing these warehouses for a maximum additional sum of EUR 9 million. "As a result, Imperial Logistics will continue to provide warehousing, transport and distribution solutions for Schirm and consolidate the partnership with AECI," Lamberti says.
Schirm GmbH became part of Imperial within the context of the takeover of Lehnkering in 2011. Schirm manufactures chemical products on behalf of the chemical industry; substances and admixtures react with each other in small reactors under different temperature and pressure conditions (synthesis). The chemicals are deployed, for example, in agriculture or in the elastic, rubber and adhesive industries. Other customers are found in the electronics, construction and automobile industries. Schirm also manufactures different mixtures of active and auxiliary substances (formulation). Its services include filling the new liquid and solid products automatically into different sizes of containers, packaging them and sending them to the ordering party's customers too. Schirm has four business locations in Germany: at Schönebeck (Saxony-Anhalt), Baar-Ebenhausen (Bavaria), Lübeck (Schleswig-Holstein) and Wolfenbüttel (Lower Saxony). The production company Schirm USA, Inc. with a production site in Ennis/Texas, USA is also part of Schirm.
The chemicals manufacturer AECI, which has its headquarters in South Africa, is known as a producer of specialty chemicals. Its customers come from the agricultural sector as well as the mining and food industries, among others.