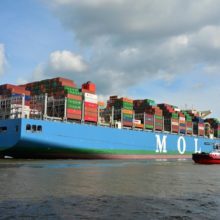 Comprising the general and bulk cargo segments, seaborne cargo handling in Hamburg during the first nine months at 104.3 million tons was at a stable level. At 6.8 million TEU (20-ft standard containers), throughput of containerized general cargoes continued to grow; while at 34.1 million tons, bulk cargo throughput remained just below the previous year's figure. For Port of Hamburg Marketing, the excellent trend in container traffic with Canada is a gratifying pointer. The port's marketing organization sees the CETA free trade agreement as providing an additional boost for seaborne trade that will benefit the Port of Hamburg.
With around 2,000 container train services per week, Hamburg is Europe's largest rail port. With something over 611,000 TEU being brought into or moved out of the Port of Hamburg by rail, the third quarter produced a record figure. That was an 8.8 percent increase on II/2017. For the first nine months as a whole, rail transport totals of 34.4 million tons (down 2.9 percent) and around 1.8 million TEU (down 2.0 percent) were recorded for the Port of Hamburg. 'The record figure for the third quarter underlines Hamburg's efficiency in environmentally-friendly railborne container transport. Up to 220 freight trains with up to 5,900 wagons are cleared daily in the Port of Hamburg. Around eleven percent of total German rail freight traffic originates or terminates in the Port of Hamburg,' emphasized Ingo Egloff.
The Port of Hamburg is Germany's largest universal port, underpinning more than 155,000 jobs in the Hamburg Metropolitan Region. The port is also an important location for industry, of great significance for the entire German national economy, with annual gross value added of 21.8 billion euros. For 2017, the Port of Hamburg's marketing organisation reckons with seaborne freight handling of 138 million tons and container traffic of around 8.9 million TEU, with results equalling the previous year's level.