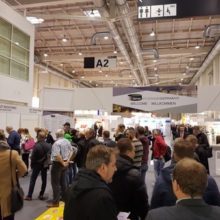 Keynote speaker, Dr. Ruprecht Brandis, Director External Affairs, BP, told the conference that despite reports in the media, oil will continue to be the number one fuel for the next 10 to 15 years, and that provides a sound foundation to build business plans. However, he encouraged delegates not to overlook what is happening in the field of alternative energy. "I really think that we are living in a period of global energy transition". Alternative energies such as gas and renewables are gaining pace and will provide opportunities for the tank storage industry.
The availability of capital was confirmed as playing a major part in the expansion of the industry and as Lucas Ruland, Co-Head Industries & Manufacturing in Germany, NIBC Bank Deutschland said, "It's an exciting time in the industry but still a very competitive environment. Investors are being more creative in order to add value to achieve acceptable exit multiples".
Big data was also discussed and its increasingly important role within the industry. "There is a shift in behavior with the key driver being more tank availability. Big data is being used to assess performance in and out of the terminal on an operational and HSSEQ level." Jonathan Feys, Business Development and Sales director, LBC Terminals said.
Visitors attended the show from over 40 countries, with 65% directly from Germany. They were able to network with other industry professionals and meet face-to-face with more than 70 exhibitors from Germany and the rest of Europe who were showcasing their latest innovations, services and solutions.
"Tank Storage Germany has built a solid reputation as an event that attracts both high profile visitors and exhibitors. This year we were delighted to welcome companies such as BP, Shell, Inter Terminals, Lipids Terminal, Ventspils, Inter Tank Nordic, Janaf, LBC Terminals, Star Oil Gas Power and Oiltanking. Our conference programme was well attended and for the first time this year was CPD Certified. Finally, I was extremely pleased with the support we have had from the industry for the launch of the Global Tank Storage Association (GTSA) which is now firmly set to become the world's largest network of tank storage professionals", Nick Powell, Divisional Director, StocExpo & Tank Storage Portfolio.
The event took place on the 29th and 30th November at the Hamburg Messe und Congress. The show brought together senior level executives, terminal managers and oil and gas professionals. The conference consisted of 18 expert speakers, providing delegates with the latest updates and discussed the key issues impacting the German Bulk Liquid Storage industry. The next Tank Storage Germany event will take place on 5th and 6th December 2018. For more information visit: www.tankstoragegermany.com