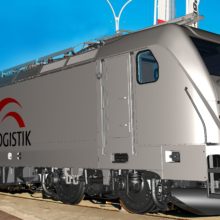 reliability and availability. The contract also includes an option for up to 25 more locomotives.
The delivery of the locomotives is planned to start in summer 2019 and CEO of TX Logistik, Mirko Pahl, says, "The TRAXX MS3 locomotive will be homologated from the beginning for operation on our main operating lines, namely the Germany – Italy corridor but also Swiss networks. This will offer us a high degree of operational flexibility throughout Europe – which is particularly important for us as an Europe-wide company. This innovative locomotive enables us to offer our customers an effective cross-border transport solution while optimizing our costs."
Albert Bastius, COO, TX Logistik, adds: "This order is part of the long-term strategy of TX Logistik – it enables us to offer flexible and cost-optimized solutions to our customers. The high traction effort, the comparably low energy consumption and the high availability play an important role regarding the costs. The new TRAXX MS3 locomotive increases our Bombardier locomotive fleet by a multi-system locomotive with an innovative, modular design, which can be easily configured for different countries. The benefit: The number of locomotive changes will be drastically reduced and punctuality will increase."
Bombardier's TRAXX locomotive platform consists of the TRAXX AC3 locomotive (alternating current), TRAXX DC3 locomotive (direct current) as well as the TRAXX MS3 locomotive (multi-system, all main currents in Europe). Bombardier boast it has many strengths from operator's view and claim; it can pull one additional wagon per train compared to other locomotives of the same performance class. It´s energy costs are low due to reduced energy consumption depending on the operational loads and because of its regenerative braking system. Regarding the TRAXX MS3 locomotive, the latest signalling technology is introduced offering dynamic transitions at country borders or signalling system changes.