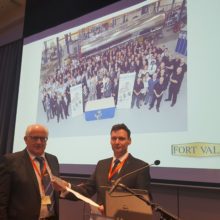 Operating under the brand of the International Tank Container Organisation (incorporating both ITCO and @TCO), the newly merged organisation will continue to develop the programme of work that ITCO is undertaking, while also integrating and maintaining the projects that @TCO has developed over the past six years. Most of the Members of @TCO have accepted an invitation to join ITCO, thereby strengthening the Organisation's profile in Asia. Because of the ITCO Tank Container Village at Transport Logistic China 2016 in Shanghai in May, a considerable focus of ITCO's work in 2018 will be directed towards the Asian market.
In addition to the ongoing technical and regulatory service that it provides to its Members, ITCO's current work schedule includes a complete upgrading of the website, the publication of the annual Tank Container Fleet Survey, and the development and promotion of the Tank Container E-learning Programme.
ITCO will also be organising the Tank Container Village in Shanghai in May, together with a European Meeting in September and an Asian Regional Meeting in Singapore in November.
A major part of the work undertaken by @TCO has been the establishment and management of a Tank Container Depot Audit Scheme, aimed at setting a quality benchmark for tank cleaning and repair – equivalent to the standards observed in Europe and North America. More than 25 depots have passed @TCO's strict inspection procedures and are entitled to display the @TCO audit placard at their premises and are also invited to join ITCO as new TSP members.
Commenting on the merger, ITCO President Reg Lee stated: "As the elected President of both organisations, I am delighted to be able to confirm that we have completed the merger of ITCO and @TCO into one combined organisation which will now represent the tank container industry globally. Our ITCO members can offer the safest, most cost-effective, mode of transporting bulk liquid chemicals when operated as part of a door-to-door global logistics supply chain."