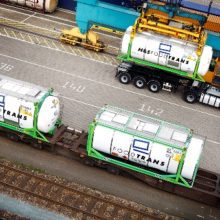 The Foodlog operations of HOYER in Bulgaria and Hungary were transferred to the H&H Foodlog joint venture as of 31 December 2017. And Hoyer state "This is a logical step to further expand the cooperation that already exists with H&S, to pool resources and know-how, and to strengthen further the pan-European network of the two companies, both with long traditions on the market." The HOYER operations of the Deep Sea and Netlog business units in the area of the international bulk transport of liquid foodstuffs in tank containers, IBCs and flexitanks are excluded from the cooperation whereas the HOYER Hungária Kft. and HOYER Bulgaria EOOD companies are integrated into H&H Foodlog 100 per cent.
Adwin Verhoeks, Managing Director of H&H Foodlog, says: "We have already achieved a great deal in the first two months since the founding of H&H Foodlog. We look forward to further expansion of the cooperation." Ortwin Nast, Chief Executive Officer of the HOYER Group, adds: "We are very pleased with the first results initially obtained. We are confident we have taken the right decision for a positive development of the liquid foodstuffs transport business."
The HOYER Group and the H&S Group have operated in the bulk transport market for liquid foodstuffs for more than 70 years and attribute their success to placing the greatest importance on quality, innovation and partnership in customer relations.