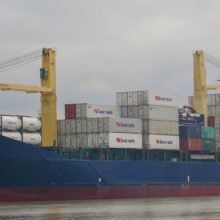 The ships have a capacity of 1200 TEU and are equipped with 380 reefer sockets. The first call will be at the Flanders Terminal on Thursday 11 January 2018.
The rotation is as follows: Willemstad (Curacao) – Oranjestad (Aruba) – Puerto Limon (Costa Rica) – Puerto Barrios (Guatemala) – Puerto Cortes (Honduras) – Port Canaveral (Florida) – Wilmington (North Carolina) – Tilbury – Rotterdam – DUNKIRK – Radicatel – Fort de France – Pointe à Pitre.
The sectors concerned at import will be fresh and frozen produce from Costa Rica, Honduras and Guatemala, and fishery products from Guatemala. This service will also call at the French West Indies.