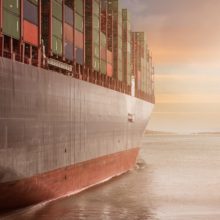 In collaboration with the Global Smart Container Alliance (GSCA), Intermodal Asia 2018 will host a 2-day Smart Shipping Forum, drawing together senior level intermodal professionals from over 90 different countries to discuss how increasing automation and digitalization across the shipping supply chain will ensure an increased competitive edge for the future, and how new technologies are creating more transparency in the supply chain, whilst encouraging greater profitability, efficiency and resilience.
The Smart Shipping Forum will include sessions on: Smart Ports: increasing automation, Using New Technologies to Optimize the Container Logistics Market, Blockchain Technology, The Internet of Things and Big Data in Tracking, the Rise of the Smart Container, Remote Temperature Monitoring and Cyber Security.
The collaboration between Intermodal Asia and The GSCA will bring the Chinese and the international shipping community together during the event which will be held at the SWEECC, Shanghai in March 2018. The GSCA – a joint venture alliance comprised of shipping lines, manufacturers and technology providers from across the container supply chain – will bring to the event the knowledge and information from component and system suppliers, together with the expertise of the leading shipping operators of the world.
During the three-day exhibition and conference, attendees will also have the opportunity to meet and do business with over 200 global exhibiting companies including: CIMC, CXIC, Bureau International des Containers (BIC), DFIC, Florens, FUWA, Global Smart Container Alliance (GSCA), Nexiot, RAM Intermodal Software, SeaCube Containers, Seaco, Singamas, Textainer and Triton International.
Intermodal Asia will take place on the 20th – 22nd March 2018 at the SWEECC in Shanghai and will bring together the leading international decision-makers from over 90 different countries, from all areas of container transport and logistics, making it the most important industry annual meeting point in Asia.
Register online at www.intermodal-asia.com. For information about speaking, exhibiting or visiting the event, please contact sophie.ahmed@informa.com.