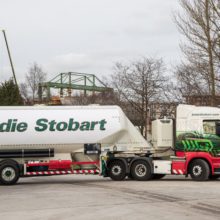 The leading supply chain, transport and logistics company has announced it is opening the doors to a second state-of-the-art driving school this month, located just outside Rugby in Crick, Northamptonshire. To celebrate the launch, the company will be offering 20 per cent off courses for Cat C licences and full Cat C and C+E licences, as well as 10 per cent off a range of wider driver training courses booked in January. The offer is extended until the 14th February for courses booked at the new academy.
These developments mark the latest in a string of training initiatives from Eddie Stobart to help raise standards and re-define the industry benchmark. The first Training Academy was received well by the sector, with driver training course sign-ups increasing by 200 per cent following a Black Friday social media promotion.
Training sessions will be delivered by a team of highly qualified trainers and instructors who specialise in DCPC, SAFED, ALLMI, FORS and CLOCS (SUD-TFL) and ADR. Eddie Stobart also guarantees an interview for all driving roles on completion of Cat C+E licences.
Chris Grice, Driver Training Manager, comments: "2018 looks set to be another year of profound change for our industry; we strongly believe training should therefore remain a top priority. It is our ambition to help drive up the number of people entering out sector by improving access to training resources. We hope the opening of our Midlands academy will not only help to improve overall industry standards, but will also enable drivers to more effectively navigate changes to the way we operate as a sector, and develop their talents further."