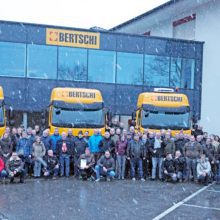 Global activities drive Bertschi Group growth
In 2012 the company launched a globalisation strategy, based on a strong market position in Europe. As a result, more than one third of Group sales is now taking place outside Europe, being responsible also for a large part of the achieved Group growth in 2017. The European business units – supported by the positive economic business cycle – were as well increasing their turnover. Together with an acquisition in Belgium, Bertschi Group achieved in 2017 more than 20% turnover growth to around 900 million Swiss francs. Group results were on a good level, exceeding budgets.
Rastatt – equally a crisis and opportunity
That 2017, despite the good achieved results, was also very challenging gets obvious when looking at the closure of the Rhine Valley railway. After a failed tunnel excavation under the existing line, the tracks suffered deformation and blocked this main route for European freight transportation during almost two months. For Bertschi – around 25% of the European turnover are generated on this line – the execution of rail transports on the North-South axis got an enormous challenge under these circumstances. Thanks to the extraordinary effort of all employees, Bertschi was able to overcome this difficult situation relatively well. The company was able to turn the crisis caused by the biggest traffic interruption in its history into an opportunity and proofed to be a flexible and reliable partner for its customers.
Positive outlook for 2018 – Digitalisation as a major focus