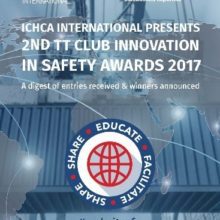 Presented at ICHCA's 65th anniversary conference last year, the 2nd TT Club Innovation in Safety Award aimed to highlight the importance of safety at a time of increased operational demands on the cargo handling infrastructure and operations worldwide. The Award, open to any individual or organisation involved in cargo logistics around the world, required entrants to show that a product, idea, solution, process, scheme or other innovation had resulted in a demonstrable improvement to safety. The range of entries displayed both a great diversity of safety issues, as well as tremendous passion, effort and ingenuity.
Welcoming the digest's publication, TT Club Risk Management Director, Peregrine Storrs-Fox said, "TT Club has always emphasised the critical nature of loss prevention in its role as a primary supplier of liability and property insurance to those in the supply chain industry. As such, we remain dedicated to encouraging safety awareness and applaud ICHCA's initiative in publishing this wealth of innovative ideas to improve global supply chain safety. TT Club works closely with ICHCA and has done so for a number of years in producing safety advisory documents and urging sound operational practice wherever and whenever possible."
The digest published today provides in-depth details of each safety improvement that was submitted for the 2017 Award, of course including the winning entry, Hapag Lloyd's Cargo Patrol. This is an industry-leading attempt to reduce fraudulent cargo declarations that obscure the true identity of dangerous goods transported around the globe. Also included is an explanation of Safety Ammo, awarded the 2017 'Highly Commended' prize. An RFID-based safety solution, developed with DP World Brisbane, this minimises the dangers faced by workers who physically handle twistlocks on the underside of containers on the waterfront.
The full digest, including details of all entries submitted, is available to download for free here.