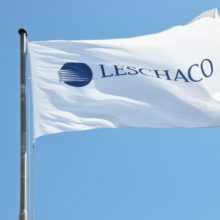 After the opening of new offices in the US (Miami and Los Angeles) as well as in Asia (Osaka, Japan) Leschaco now expands its presence in Europe. The group of companies provides its customers a locally-based service via Leschaco France SARL, located in Paris (France) and soon to follow, via Leschaco Iberia S.L., located in Valencia (Spain). The opening of further offices in both countries is being planned.
"France and Spain are among the European logistics growth markets and offer a lot of future potential", explains Mr Jörg Conrad, Owner and CEO of the Leschaco group. "Against this background, the strengthening of our own local presence is a consistent step in our global expansion strategy. Furthermore, we are better able to meet the needs of our customers with own subsidiaries in France and Spain." Previously, Leschaco, as a member of the strategic alliance EURTEAM, was represented by agents in France and Spain.
In the growing Asian markets the freight forwarder invests in their branch network, when in 2017 Leschaco became main shareholder of the Joint Venture Global Saga Leschaco Pvt. Ltd. Since January 02, 2018 the company operates under the new name Leschaco India Pvt. Ltd. "The new company name underlines our business targets based on sustainable growth in the strong association within the internationally successful Leschaco group with approximately 2,500 employees", said T.K. Ram, Managing Partner of Leschaco India Pvt. Ltd. "The new name of the company is also an expression of the further development of our products and services as well as the perception of the Leschaco brand", added Jörg Conrad.
With these new locations Leschaco is now operating from 71 offices in 22 countries. At all locations all services in the core business segments sea and air freight, tank container and contract logistics are offered. Many value added services, as well as multimodal transport, round off the product portfolio. Already in Mid-February 2018 the company plans the opening of an office in Chicago (USA) and, in the near future, in Salvador de Bahia as well as in the State of Santa Catarina (Brazil).