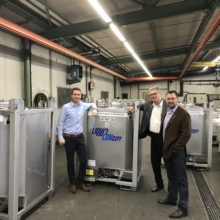 With this fresh investment, Liquid CONcept is responding to increased demand for food transportation in small containers. The cutting-edge technical specifications of the containers can be individually modified in line with customer requirements.
"This new investment in our fleet of small containers enables us to respond even more flexibly to strong demand for liquid logistics," explains Ulrich Schnoor, Managing Director of Liquid CONcept. "We are therefore expanding our core operations and are able to handle even greater volumes."
The 100 new containers have already been leased to customers. Food manufacturers primarily use the IBCs for the transportation and storage of liquid foodstuffs. These small units are also used whenever tank containers or tank trucks cannot be deployed.