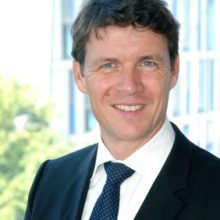 The Doctor of Economics has worked for around 20 years in senior management functions for companies operating nationally and internationally, during which he focussed on key strategic-operational areas. The positions he held included Director of Group Finances for the Otto Group, and as CFO he was responsible for developing the Hermes Logistik Gruppe, before taking over that position at DPD in Aschaffenburg in 2015. The new CFO of HOYER combines his expertise in the economic and financial area with expert knowledge from the logistics sector, and thus has optimum qualifications to succeed Peters.
"Not only are we convinced by the specialist know-how of Dr Nölling, we have also gained the impression that he understands the requirements that HOYER as a family business asks of a CFO, and that he will identify with our values and exemplify them", are the reasons given by the Chairman of the Advisory Board Thomas Hoyer for the personnel decision. Dr Nölling adds, "I am motivated by the attainment of financial successes, but I also greatly value the fact that the togetherness and the task will be enjoyable. I look forward to carrying the traditional Hanseatic company HOYER forward into the future together with Mr Nast."
Peters will take over full entrepreneurial responsibility for another corporate association of the Hoyer family. "For many years I have been able to contribute to the fact that the HOYER Group displays very stable financial conditions and a sound balance sheet structure", says Peters, "HOYER is a strong company with a good foundation on which Dr Nölling can now continue to build." The international logistics company HOYER earned turnover of EUR 1,189 million in 2016.