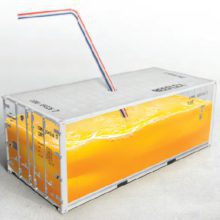 Launched at the Fruit Logistica event in Berlin the Reeflex is described as the "first and only monobloc flexitank". The system was developed in partnership with German logistics firm Teconja and a company called Liqua, which carries the same logo as Turkish flexitank manufacturer Liquatrans.
Reeflex is described as an ideal solution for transporting liquids that require refrigeration, like fruit juices, milk, etc, as well as being an alternative to breakbulk. Bag capacities range from 12,000 to 24,000 litres. Available for 40ft reefer containers the tank can be installed in just three minutes, it is claimed. Thanks to an external pumping system, the bag is filled and emptied in 35 minutes due to its adapted design.
More details will be available in the March/April print edition of Bulk Distributor.