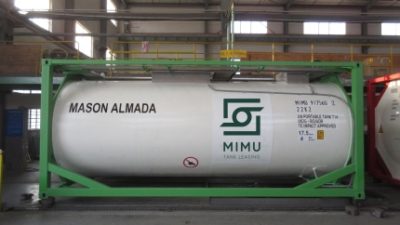 MIMU Tank Leasing started life as a department within Red Dot Services, but in 2016 Inge and his business partner, Steve Govers decided to separate the two activities. While Red Dot Services continues to provide tank container logistics support to the chemical industry, MIMU Tank Leasing caters solely for the smaller tank leasing market. Although separate entities, there is still much synergy between the two companies; they have the same shareholders, are located at the same address in Antwerp and share many of the same customers.
Despite the fact that there is already a considerable stockpile of empty tank containers in storage depots around the world, Inge explains why, as a company, they made the decision to branch out in to the tank leasing market.Size Matters
"There is currently a global surplus of tank containers in storage, but they can generally be slotted into one major category. Referred to by many as 'the work horse of the tank industry' this category comprises 23,000, 24,000 and 25,000 litre units," Inge told Bulk Distributor. "Tanks with smaller volumes, of 21,000 litres and less and those with bigger volumes, of 26,000 litres upwards, are generally considered to be more desirable units. For this reason, we decided to concentrate our leasing activities specifically on the smaller end of the market."
A few years ago the price of stainless steel fell considerably, resulting in a significant increase in speculative new tank orders from major leasing companies. However, despite this, MIMU Tank Leasing is not looking to compete in this segment of the market and has no desire to become a large tank leasing company.
Inge said: "We have a small fleet of tanks, all of which have top discharge capabilities. Our customers rely on our expertise and have the utmost confidence that we can provide them with the most suitable tank for their specific products and geographic trading areas. Many of our tanks are also internally lined to facilitate the transportation of corrosive liquids such as chlorides. Our top valves are also lined with Teflon, eliminating any contact between the cargo and the steel of the tank container itself.
Based in Antwerp, with an office in Stockholm and a network of agents across the globe in areas such as Mumbai and Houston, the company operates predominantly in the emerging markets of India, Eastern Europe and South East Asia. As well as its standard leasing activities, MIMU offers operational lease agreements and provides customers with fully integrated logistics packages on request.
A Family Affair
Family is at the very heart of the business and this is reflected in Inge and Steve's unusual choice of name. "The name MIMU Tank Leasing is not as random as it may seem and certainly wasn't plucked out of thin air," laughed Inge. "It was created using my wife, Martine Inghels-Moerkens' initials. Family is important to us and we have decided to demonstrate this by placing our grandchildren's names on all of our new tanks and are keen for this lovely tradition to continue."
Looking ahead, Inge has very specific plans for the future: "We would like to continue to specialise in small and lined tank containers, with careful growth."
www.mimu-tankleasing.com