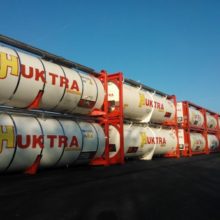 Logistics service provider H.Essers has just announced the take-over of the Zeebruges tank container specialist Huktra, which also has offices in the UK, Spain and Italy. Gerd and Tim Van Poucke, the second generation at the head of the family business, have managed to expand the company substantially in recent years. In H.Essers they have found the ideal industrial partner to lead Huktra into a new growth phase. For H.Essers, the take-over is entirely in line with the further expansion of its strategic market segment in the chemical industry.
Since its foundation in 1976, family business Huktra has become one of the leading European intermodal logistics service providers in the field of chemical substances. With a fleet of 897 chemical tank containers for the transport of all kinds of chemicals, Huktra specialises in three market segments: liquid bulk (inorganic substances, polymers, special chemicals, and consumer chemicals), dry bulk (food) and powders. Huktra's geographical location, in the port of Zeebruges, is an enormous strategic asset for both European and intercontinental intermodal destinations. Therefore, the company's client portfolio includes leading chemical companies such as BASF, Eastman, and Repsol.
Own maintenance centre
Huktra has a turnover of 50 million euros and employs approximately 50 employees, spread over its offices in Belgium, Italy, Spain, and the UK. In Zeebruges the company also has its own maintenance centre of 20,000 square meters. Current managers Gerd and Tim Van Poucke and all employees will stay on board.
"After the strong growth Huktra has recorded the past years, it is now time for the next step," says the second generation of the family business. "Thanks to the take-over by a strong, industrial player such as H.Essers, Huktra will be able to keep growing in the coming years and to further develop our expertise."
Everybody on the same page
H.Essers' CEO, Gert Bervoets, also looks forward with confidence. "The take-over of Huktra is entirely in line with our strategy to offer our clients the best possible synchro-modal solutions. Combining different modes of transportation in an intelligent way is the future, because it offers an answer to current challenges in the field of mobility and the environment. But most of all, synchro-modality offers a new interpretation for the management of transportation flows. This approach not only makes them more efficient, but also more advantageous and sustainable. A win-win situation for all parties involved: customers, logistics service providers, and our entire society."
"And there is more," Gert Bervoets continues. "Huktra is a family business with the same values and standards as H.Essers. We are all on the same page. Moreover, just like H.Essers, Huktra is committed to safety and quality, including a constant renewal of their materials and installations, which means that their approach and operation also meet the highest standards and strictest values. We eagerly look forward to welcoming our new colleagues to the warm H.Essers family and continue building our future together."
Two new countries
With this take-over, H.Essers also establishes its footprint in two new countries: Spain and the UK. "From now on, our company features 71 offices in 17 countries," says Gert Bervoets. "At a national level, the take-over seamlessly connects to the construction of our trimodal chemical site, H.Essers Dry Port Genk, for which the groundbreaking celebration took place last Friday, and to our recent investments in the upgrade of our site in Wilrijk, with its ISO tank container terminal and state-of the art filling installation. This enables us to continuously improve our all-in solutions for our chemicals customers."
It concerns a complete take-over. No details will be disclosed regarding the take-over conditions, and the transaction is subject to the usual registration procedure with the Competition Commission.
About the company H.Essers
H.Essers was founded in 1928 by Henri Essers and has since become one of the leading companies in Europe within the field of integrated logistics services for industries such as chemicals, pharmaceuticals, healthcare and high-quality products. Thanks to the autonomous growth and a number of strategic take-overs, the company has expanded exponentially in recent years. In 2016, H.Essers reported a turnover of €571 million. The company currently features over 950,000 m2 of warehouse space and has a fleet of more than 1,460 tractors and 3,050 trailers. H.Essers employs more than 5,400 staff at 67 locations in 17 countries worldwide.