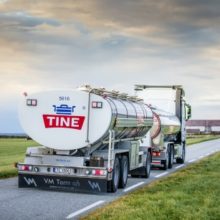 Last year, TINE went live with the first phase of the Quintiq solution, designed to optimize the company's last-mile delivery of dairy products on a tactical level. TINE's planners used Quintiq to plan shipment routes from central distribution centers all over Norway to customers. They were able to manage the complexity of trailer swapping, various types of resources, dynamic time windows and ferry connections in Norway, while maintaining a cold chain at all times. This first phase resulted in a significant reduction in costs, decrease in total miles driven and improvement in customer service.
TINE now enters into phase two, which will be executed by Quintiq's implementation partner, The Logic Factory. In this phase, TINE will enhance its existing tactical planning solution and expand its scope to include day-of-operations planning. This expansion will ensure better incorporation of operational orders, improved performance and greater capabilities to manage disruptions through real-time feedback and increased supply chain visibility.
"We selected Quintiq to strengthen our leadership in the market and help us to continue providing fresh, quality products to customers," said Trond Vidar Aske, CIO at TINE. "The first phase of the project was very successful due to the Quintiq team's great drive to beat industry benchmarks and set new standards. We are confident that the next phase with Quintiq and The Logic Factory will be just as successful."
Upon completion of the second phase, TINE will benefit from additional tactical planning capabilities and be able to make more accurate decisions on an operational planning level. When disruptions occur, the Quintiq solution will provide planners with decision-making support for fast resequencing of deliveries to keep customer service levels high while achieving business goals.
"The partnership with TINE reinforces our position as the planning solution provider of choice in the food and beverage industry," said Rob van Egmond, CEO at Quintiq. "With Quintiq's optimization technology, TINE will experience the many business benefits of superior logistics performance, the most important of which is to satisfy the growing demand of its customers for the highest quality and freshest products possible – every single time."