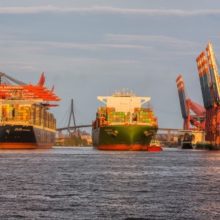 The triumphant advance of the container, which has revolutionized the worldwide transport industry, commenced in the Port of Hamburg on 31 May 1968. With the 'AMERICAN LANCER', a containership berthed at Burchardkai for the first time that day. It was the first step in a new era that was to shape change in the Port of Hamburg for ever.
Scepticism predominated in Hamburg at the time. Would the new transport system with its normed boxes gain acceptance? Would the investments in expanding the Port of Hamburg into a container handling port pay off? Today we realize that if visionary politicians and port managers had not shown the courage at the end of the 1960s to make Hamburg fit for the container, then the port would by no means certainly have become a significant cargo-handling hub in world trade.
The container's immense significance for the Port of Hamburg

Container handling with an annual volume of almost nine million boxes is now the foremost cargo segment. The Port of Hamburg is Germany's largest universal port and the leading transhipment centre for Germany as an exporting country. the port is also Northern Germany's leading employer, securing more than 155,000 jobs in the Hamburg Metropolitan Region.
Over the past 50 years, the Port of Hamburg has successfully adapted to new market conditions in order to retain and expand its competitive position. A comparison between the 'AMERICAN LANCER' and the 'CMA CGM ANTOINE DE SAINT EXUPERY' illustrates the pace of change. With a length of 213 metres, the 'AMERICAN LANCER' could transport just 1,200 TEU (20-ft standard containers); 400 metres long, the 'CMA CGM ANTOINE DE SAINT EXUPERY' has a capacity seventeen times higher at 20,776 TEU. End-to-end, those containers would cover a distance of over 125 kilometres. During her first call at HHLA Container Terminal Burchardkai (CTB), the mega-ship will be discharging approx. 7,000 TEU and loading 4,000. Cutting-edge technology and a highly efficient hinterland network guarantee safe, reliable and punctual clearance.
High-performance berths at Burchardkai

Whereas at the end of the 1960s, the first container gantry cranes at Burchardkai handled twelve to 18 containers per hour, modern cranes can now handle twice as many. With one heave, they can lift two 40-ft or four 20-ft containers, with a total weight of 110 tons, the equivalent of seventy medium-sized cars. No less than 30 such cranes operate at HHLA Container Terminal Burchardkai, half of them mega-ship gantries. Burchardkai has two high-performance berths for handling the new 20,000-TEU containerships. The Hamburg terminal operator's largest container gantry cranes are deployed there. Their booms extend over a mega-ship's entire width – of 24 boxes in a row. CTB has 13 of these cranes in operation. Up to nine of them will be used simultaneously in handling the 'CMA CGM ANTOINE DE SAINT EXUPERY'. In seven eight-hour shifts, HHLA's terminal staff – crane drivers, stowage planners, van carrier drivers, foremen, supervisors and many others – will work on the ship almost continuously. HHLA has planned around 470 staff shifts to enable the 'CMA CGM ANTOINE DE SAINT EXUPERY' to keep to her schedule and leave Hamburg again punctually.
Long-standing relationship between CMA CGM and the Port of Hamburg

CMA CGM is one of the major global players among container shipping companies, and has been one of the Port of Hamburg's top customers for years. This French shipping line serves the Port of Hamburg with ten liner services using its own ships, participating in a further eleven through slot booking agreements. Last year the Port of Hamburg reported over 930 calls by CMA CGM vessels. The first one to visit the Hanseatic City was the 'KATJANA' in 1983, a multi-purpose ship with its own handling gear and a capacity of 802 TEU. With a length of 147 metres, on that occasion the ship handled almost 50 containers in Hamburg. For comparison, the 'CMA CGM ANTOINE DE SAINT EXUPERY', sailing on the FAL1 service between Asia and Europe, will be loading/discharging around 11,000 TEU at Burchardkai. Yet CMA CGM's vessels have progressed, not solely in terms of size, but also in sustainability. The 'CMA CGM ANTOINE DE SAINT EXUPERY', for instance, embodies cutting-edge technologies for protecting the environment, for limiting fuel and oil consumption and significantly reducing CO2 emissions. Peter Wolf, CEO of CMA CGM Germany, regards the first call of the 'CMA CGM ANTOINE DE SAINT EXUPERY' as being of immense importance: "We are absolutely delighted to welcome our new flagship here in Hamburg for the first time. She will play a key part in regular services between Asia and Northern Europe. That our largest vessels for decades are calling the Port of Hamburg demonstrates, not only our belief in the port, but also our efforts to achieve continuous growth on the German market. In recent years, CMA CGM has become one of world merchant shipping's top groups. We aim to consolidate that position."
Germany is dependent on a strong Port of Hamburg

"Growth in containership size has rapidly picked up speed in recent years," says Andreas Brummermann, Deputy Port Captain. "However, the Port of Hamburg is very well prepared for these VLCVs." Around 9,000 seagoing ships a year reach the Port of Hamburg, about half of these being containerships. Since the first calls in 2015, the number of vessels with a slot capacity of over 18,000 TEU has tripled. In 2017 alone, there were 102 calls by VLCVs in the 18,000-20,000+ TEU segment, or an increase of over 52 percent. This trend involves challenges, not just for Hamburg, but for ports worldwide.
"By investing in state-of-the-art gantry cranes and storage technology, we prepared ourselves at an early stage for this growth in ship size," says Jens Hansen, HHLA Executive Board member and Chief Operating Officer. "But we are not only making progress on the quayside. At the same time, we have implemented measures to deal with peak loads of incoming/departing containers caused by the arrival of VLCVs reliably and securely. In November 2017, for instance, a slot booking procedure for trucks was introduced that has already successfully overcome numerous 'peak situations' and is increasingly gaining acceptance from all those involved. In addition, the successful expansion of the Altenwerder rail terminal and the one planned for this year at the Burchardkai rail terminal will consolidate our integration with European hinterland rail services," added Hansen.
Ingo Egloff, Joint CEO of Port of Hamburg Marketing, drew attention to the guarantee of nautical accessibility, or secure access via the Elbe: "That CMA CGM Group should send its flagship to Hamburg is further proof of our ability to handle these mega-ships and an endorsement from the shipowner of this port. It underlines its trust in the Port of Hamburg's ability deliver the goods. All this is vital, since as an exporting nation we depend on the Port of Hamburg's ability to perform," declared Egloff.
Digital networking will determine the future

How does the container's future look in Hamburg? In the Port of Hamburg the process of containerization is all but completed – 98 percent of general cargoes handled in Hamburg are meanwhile transported in containers. It can also be assumed that growth in vessel size in container shipping has reached its limits or will only continue in small steps. Yet that does not bring to an end Hamburg's development as a container port: Optimized processes on the quays offer tremendous potential for growth and improvement in future. Digitalization involves Hamburg development into a Port 4.0. Technical innovations, automated working processes and digital networking will ensure momentum in structuring transport and logistics chains – a growth process in which such top customers going for digitalization as CMA CGM will play a vital part. All this will lead to changes in the Port of Hamburg to an extent comparable with containerization itself. Hamburg is prepared for this development and as one of the pioneers, is already actively contributing to shaping it.