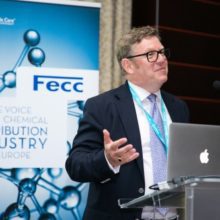 Fecc is supporting its members' endeavours in the next phase of the Chemical Distribution 4.0, in which digitalisation, corporate social responsibility, circular economy and sustainability are key pillars for corporate growth and competitiveness.
For many years, chemical distributors have stressed the need for greater collaboration in the chemical supply chain in order to seize the market opportunities and develop business models for the future ahead.
Digitalisation of the chemical supply chain remains both a challenge and a possibility for the sector. Building on the success of last year Congress, focused on digitalisation, Fecc is establishing itself as a permanent platform to exchange experiences of the Chemical Distribution companies in the digital world and explore its potential.
For chemical distributors the transition to circular economy holds promise and represents also an opportunity to generate innovative business models, like the chemical leasing, to minimise the use of chemicals and their emissions, and contribute to a competitive economy.
The Fecc Annual Congress 2018 will provide inspiration to those considering how to boost their relations with the suppliers and customers in order to successfully face these challenges. The upcoming event will explore the current market demands and the expectations both of the suppliers and the customers, as well as the role that chemical distributors play.
Participants are welcomed to join the Fecc Congress that will take place in Nice on 4-6 June.