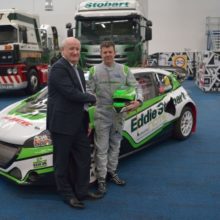 This announcement marks the latest in a series of training initiatives by the supply chain, transport and logistics company since opening the doors of its flagship Training Academy to the wider logistics and supply chain sector last September.
The collaborative partnership will provide students studying Motorsport and Automotive Performance Engineering at the University of Bolton with hands-on experience in the development, assembly and preparation of the "Albatec NCME partnered by Eddie Stobart Peugeot 208 RX Supercar".
Through a mixture of in-class, workshop and event-day learning, NCME students will work directly with Albatec engineers during the Toyo Tires MSA British Rallycross Championship, as British Rally Champion Mark Higgins takes to the wheel of the Peugeot 208 RX. 11 students were able to accompany and support Higgins and the team during the opening race of the campaign at Silverstone earlier this month.
Higgins will also be on hand to work closely with students during the championship and, as the stunt driver for the last three James Bond movies, Higgins has a wealth of experience to share.
Having already completed the first race of the campaign, Higgins will again take to the wheel of the Peugeot 208 RX Supercar for round two of the rallycross championship in Kent on Easter Monday. To celebrate the new partnership, Eddie Stobart will be running a social media competition over the Easter bank holiday weekend for one lucky individual to name the team's turbocharged Peugeot 208 RX Supercar.
Eddie Stobart will also be working closely with the University of Bolton to understand how it can extend this partnership to aid the development of its graduate scheme which will be launched in September this year.
Angelina Miley, HR Director of Eddie Stobart said, "We're thrilled to be partnering with Albatec and the National Centre for Motorsport Engineering. With the core aim of providing career development opportunities for the next generation of motorsport engineers, this partnership perfectly epitomises Eddie Stobart's ideals and the team has our complete support for the year's rallycross campaign. Motorsport has such strong links to the logistics world, and we're committed to helping deliver for Mark and the team."