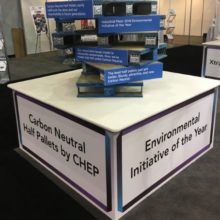 "We had a large number of entries for the inaugural Industrial Pack Awards, and the jury came to a unanimous decision that CHEP's carbon neutral half pallet was the deserved winner," said Tim Rusbridge, Event Manager for Industrial Pack. "The carbon neutral half pallet is a great product that will positively impact the entire industry."
Rusbridge said the Environmental Initiative of the Year Award was established to recognize and honor "the product, service, person or company that demonstrates its dedication to protecting the environment via the use of latest technologies, materials or ways of thinking."
Protecting the environment is an essential aspect of how CHEP and its parent company operate, according to Suzanne Lindsay-Walker, North America Director of Sustainability, Brambles.
"We're honored to receive this award in recognition of CHEP's ongoing work to create a circular, sustainable economy," said Lindsay-Walker. "Given the size and scope of our organization, Brambles has the ability to make a real contribution to smarter, more sustainable supply chains – and we take that responsibility to heart."
CHEP's life cycle analysis includes initiatives to reduce the half pallet's environmental impact. The use of CHEP's solutions produce a significant reduction in emissions when compared to other market alternatives. Additionally, CHEP's half pallet carbon footprint is further reduced by supply chain optimization activities such as purchasing offset credits for the remaining carbon to ensure it's completely neutral. The credits purchased benefit the Mississippi Alluvial Valley Reforestation Project, an American Carbon Registry listed project.