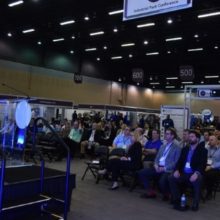 Exhibitors at Industrial Pack, the first and only trade show dedicated to the North American industrial, transit and protective packaging market, have hailed the first edition of the event as a resounding success.
Taking place this week at the Cobb Galleria Centre in Atlanta, the show brought together over 1,000 of the market's top packaging engineers, technicians, specifiers and buyers with the very best suppliers of industrial, transit and protective packaging.
Representatives of household-name businesses from a range of industrial sectors visited the show to source new solutions and meet suppliers, including 3M, Akzo Nobel, BASCO, Bostic, Caterpillar, Coca-Cola, Eastman Chemical Company, HB Fuller, Henkel Corporation, Honda, MetroSite, Pratt & Whitney, Nordson, Nova Chemicals, Procter & Gamble, Snap-on-Tools, Solvay USA, The Dow Chemical Company, Unilever, Viking, Wayfair, Yamaha and many more.
Features at the show included the first Industrial Packaging Awards, which celebrated the outstanding new products and initiatives in the industry, and the Industrial Pack Conference, which saw top experts share case studies and insights on hot topics such as sustainability, cost management, legal compliance, tariffs and more.
The show floor was also host to a unique feature, Pack Testing Live, which saw a range of packaging formats being put through their paces in front of a live audience. Plans are already underway for Industrial Pack 2019 and the second edition of the event will be back at the Cobb Galleria Centre on March 27-28, 2019.
Event manager Tim Rusbridge said: "It's been fantastic to see this event come to life and we're delighted with the feedback we've had from both visitors and exhibitors for this launch edition. The quality of the booths and the senior positions of our visitors only underlined the need for a show of this type to serve the industrial, transit and protective packaging sector.
"The features ensured that the show offered the visitors great opportunities to learn from, and network with, the leaders of this dynamic industry and colleagues across the business. We have laid a strong foundation for next year's event and we're really looking forward to working with our many partners and friends in the industry to ensure it connects and inspires the sector even better than this year's."
Exhibitor testimonials
"Considering this was a launch event, we were pleasantly surprised by the number of quality leads we received, and we are already looking forward to exhibiting at the 2019 show!" – Jim Baibak, Sumter Packaging
"The first edition of Industrial Pack went well! Great connections with visitors and professionally organized. The outcome was simple, efficient and focused on doing business."- Koen Adams, NEFAB
"Best new packaging show in the South! Nothing but growth to come… thank you Easyfairs for an awesome job!" – Shannon Chaney, Schaefar Systems
"Show started out strong with a good selection of venders and people walking the show were quality leads." – Randy Cleveland, Tyoga Container Company
"We thoroughly enjoyed the experience and met plenty of potential customers. Being near the Braves Stadium was also a treat – ABC Polymer will be returning next year without a doubt!"
– Patrick Williams, ABC Polymer Industries
Visitor testimonials
"Industrial Pack turned out to be a very useful expo. As a buyer, there were plenty of networking opportunities and new product demonstrations. I will be back next year and look forward to it!" –

Jeff Baker, AMEC
"I've been looking for recycling containers, and there were a number of suppliers here that I made good connections with – I'm looking forward to following up with those and hopefully we'll have some good business with them." – Dana Burns, Procurement Manager, Central Garden & Pet Company
"There really hasn't been a show like this that focuses on the rigid side, so we were particularly interested in seeing this. We have some 40+ plants across 12 business units and I've found a lot of suppliers here and found a lot of benefit – I'm coming back tomorrow to see a couple of the talks and am pretty sure I'll be back next year too!" – Alexei Main, Procurement Manager, Arkema
For more information regarding the exhibition and conference visit www.industrialpackexpo.com.