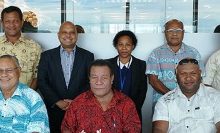 Representing the Noho-Magae organization, Iduhu Erue Igo, Baruni Community Development Association (BACODA) chairman, and Tom Lancan, Tatana-Araira Development Association (TADA) deputy chairman, signed the agreement formalizing the respective communities as shareholders. Motukoitabu assembly chairman Opao Udia witnessed the landmark event.
"This is a momentous occasion for our communities. ICTSI has shown good intent throughout our negotiations and we are proud to be partners of MIT. We are confident that global port operator ICTSI will bring industry proven best practices to Papua New Guinea, and our communities-–as partners-–will benefit from the opportunities stemming from the implementation of international standards," said Mr. Opao, who is also the chairman of TADA.
Edward Muttiah, MIT chief executive officer, said: "ICTSI is delighted to have Noho-Magae on board to represent the interests of the Baruni and Tata communities."
He adds: "Today, we commence a 25-year journey and the strong support of our community partners has ensured a solid foundation built on trust, respect, and mutual commitment to build a world-class maritime facility–one that will, in time, become a source of pride for the nation."
Christian R. Gonzalez, ICTSI senior vice president and head of Asia Pacific, expressed optimism on the project, saying ICTSI is "privileged and excited to have been granted the opportunity to collaborate with our host community to jointly realize the potential of the Port of Motukea as a logistics hub. This mutually beneficial goal would not be possible without the support of our host communities."
The formalization of the shareholder agreement followed the signing of a Memorandum of Agreement between the community representatives and MIT last year to establish a collaborative framework for the successful operation of MIT.
MIT will handle all international container and general, non-bulk cargo vessels through the international wharf at Motukea. ICTSI expects to commence operation mid-May.
MIT has also committed to work closely with community leaders to implement meaningful community engagement projects. The ICTSI Foundation will support MIT initiatives identifying high-impact programs for overall community development.
ICTSI won a 25-year concession to operate the new Port of Motukea, which is designed to handle larger international vessels and facilitate greater trade with Australia, New Zealand, China, Japan, and other markets in the region.