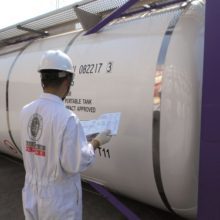 During the conference common issues and challenges will be discussed, including applying the right legislation and looking toward the future. "We will elaborate what the technical problems with tank containers are and how operators and leasing firms can cope them. The combination of harbour masters, transport experts, operators and leasing firms, who represent all aspects of the supply chain, offers a holistic knowledge-base and a valuable networking opportunity." Accordingly to Jeroen Schots, Business Manager Transport at Bureau Veritas Benelux and UK.
The content of the conference is developed to add value for all interested parties within the tank container industry. For both technical and quality experts of manufacturers, leasing firms, operators, chemical companies etc. "It is our goal to elaborate as many aspects of the industry in a relaxing atmosphere and to share knowledge with as m any parties as possible during this conference."
The day session will take place in the Ark, after which the participants are invited to the iconic harbour house for the evening session: walking dinner, a tour in this marvellous building and a presentation about the port of Antwerp.
The event will take place on Thursday June 14, 2018. The day session will start at 09.30 and will be completed at 18.30. For more information visit: https://bureauveritas.lpages.co/tankcontainerconference/