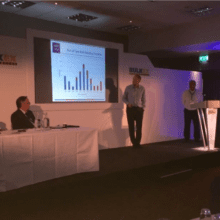 Speaking on the theme Shaping the Future, British Steel; Crossrail 2; The Department of International Trade; and Primary Engineer; have all been confirmed as participating in the flagship event this October. President of the MHEA, John Connolly, said: "With the National Infrastructure and Construction Pipeline projections by Government showing £600 billion in public and private investment over the next ten years,1 there will be an unprecedented demand for materials handling across our industry. It is within this context that yet again, we are attracting high profile, high calibre speakers, who are all thought-leaders in their respective fields. Delivering insightful, stimulating and industry-relevant papers at BULKEX 2018, members and non-members alike will benefit from this exciting seminar programme, which provides a topical, informative and forward-looking forum, for the bulk handling sector. The excellent quality of the papers we have already received is indicative of the overall high standard of speakers that we are expecting, and we will be announcing further speakers shortly."
The BULKEX18 Conference and Exhibition will take place between 17th and 18th October 2018 at the Eastwood Hall Hotel, Nottinghamshire, and is a must-attend event for anyone involved in the bulk materials handling industry or affected by it. During the event, the MHEA will also be hosting its 80th Anniversary Excellence Awards Dinner. Entries for the Excellence Awards are open until 31 July 2018 and full details, including the categories and the entry form, can be found on the MHEA website.
The MHEA has also signed up as a partner to support the Year of Engineering, a government campaign which celebrates the world and wonder of engineering.
If anyone is interested in presenting a paper at BULKEX 2018, or for more information about exhibiting attending BULKEX18, please go to www.mhea.co.uk or contact Julie Claus by emailing jc@mhea.co.uk, or call the MHEA on 01787 226995.