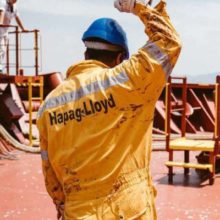 "We have deliberately set a very ambitious goal for ourselves in terms of CO2 emissions because we view sustainability as self-evident, active involvement rather than lip service. Hapag-Lloyd numbers among the leaders in the container shipping sector when it comes to sustainability. Time and again, our involvement far exceeds the measures required by law," said Jörg Erdmann, Senior Director of Sustainability Management at Hapag-Lloyd. "For example, we are one of the few global shipping companies that recycle its container ships in an environmentally friendly manner in specifically certified shipyards – even if this entails additional costs."
In addition, Hapag-Lloyd expressly endorses the April 13 decision of the International Maritime Organization (IMO) to halve the CO2 emissions caused by the international shipping industry by 2050.
"We think the strategy put forward by the IMO to decrease the greenhouse gas emissions from shipping is excellent," said Rolf Habben Jansen, CEO of Hapag-Lloyd AG. "What matters now is for all market players to pull together in the same direction. Hapag-Lloyd will do everything within its power to contribute to achieving this goal."
The Sustainability Report can now be downloaded.