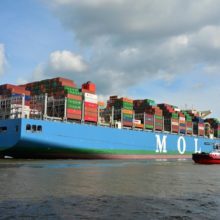 From April 1, 2018, MOL has appointed Mr. Michael Goh as the Executive Officer and Deputy Director General in its Product Transport Business Unit. Under his leadership, MOL Logistics (Japan) Ltd ("MLG"; President: Tetsuya Minato, headquarters: Tokyo) and MOL Consolidation Service Ltd ("MCS"; CEO: Michael Goh, headquarters: Hong Kong) are actively collaborating to create the optimal combinations of transport modes and routes, and other value-added services to their respective customers' needs.
In July, MOL is planning to establish a new company in Hong Kong to be the headquarters of the group's NVOCC business. When it completes securing all proper licenses from transport authorities in the markets it will serve, this new company will centralise marketing, procurement, network operations, and global account management under the unified brand name of "MOL Worldwide Logistics" to better serve MOL existing and new customers for its NVOCC service.
In the re-organisation, the new company, MLG and MCS will be sharing a single cloud-based freight forwarding system to control and manage all aspects of shipments from origins to destinations. Also MOL Worldwide Logistics will aggressively tackle further enhancement and differentiation of their service using ICT technologies such as "Robotic Process Automation" (RPA) that can streamline routine data input tasks, improve data accuracy and boost labor efficiency and reduce cost, and real time cargo tracking by mobile using GPS devices placed in containers.