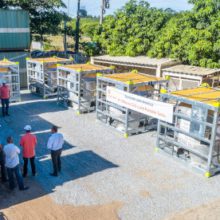 Customised to Brazilian operational requirements the TK5000BR is the first tank of its kind to guarantee a nominal capacity of 5000 litres (with an actual tank volume of 5310 litres maximum).
Marco Pfeifer, Suretank Latin America CEO, explained: "This is a very significant development for the offshore industry. The issue of maximum filling compliance not allowing nominal capacity guarantee is not exclusive to Brazil and can result in either a loss in volume (where ERP systems are configured for nominal batch entry) or a loss in compliance to safety standards."
The guaranteed nominal capacity of the TK5000BR means it is also suitable for expansible products in accordance with the IMDG code for the safe transportation or shipment of dangerous goods or hazardous materials by water on vessel.
Importantly, it comes with a lower initial cost, longer lifetime guarantee, reduced operational costs and additional safety improvements.
The 5000 litre T7 classified tank is suitable for 99 percent of all chemicals used in offshore activity in Brazil. Designed specifically to local trailer requirements and regulations the tank delivers up to 25 percent in freight savings.
Environmentally efficient, the tank allows complete discharge with no product loss and therefore minimal disposal requirements and costs.
Its AISI 316L barrel, combined with hot dip galvanized split-bolted frame (an innovative and cost-efficient approach), guarantees extended lifetime, low maintenance and refurbishment costs for a 10 years plus lifetime.
Marco Pfeifer, Suretank Latin America CEO, continued: " We work closely with our clients to develop solutions that suit their specific requirements, using expertise from across the Suretank Group. Designed and part-built in Suretank Ireland, the tanks were then shipped to our facility in Brazil for final assemble and delivery. The success of the project was down to a team approach between Suretank's engineering and manufacturing teams and Petrobras's local expertise and need to operate offshore chemicals with further IOC´s certification standards."
Suretank claims to have the largest number of DNV 2.7-1 certified products and, in Brazil, works within NORMAM 5 (Brazilian Navy's requirement for operation with dangerous cargoes in the offshore market) and has design and manufacturing facilities in Ireland, UK, Poland, Thailand, Brazil, USA and China as well as sales offices in USA, UK, Thailand, Australia and Brazil. Their product range includes Chemical and Acid transport tanks, Helifuel tanks, offshore Containers, Baskets, offshore Mudskips and Cryogenic tanks.