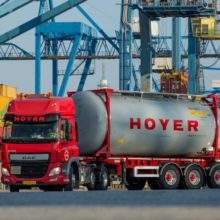 More than 96 percent of the trucks of HOYER in Germany already have low-emissions engines of the class Euro 6. "We have been working on converting our entire fleet to vehicles powered by Euro-6 engines for quite a while, which is proving to be a good decision. We increased the number of trucks powered by Euro-6 engines by 58 percent as compared to last year 2017," explains Mark Binns, Managing Director of Petrolog and Group SHEQ at HOYER. The logistics company is also testing more environmental friendly alternative fuels, such as LNG (Liquefied Natural Gas).
The commitment to a modern fleet is not a new development. The HOYER Group's SHEQ management system (Safety, Health, Environment, Quality) implemented 20 years ago ensures continuous controlling and optimisation of security, industrial safety, environmental performance and the quality of all operations. Legal requirements are always complied with but often exceeded. One of the central environmental parameters for HOYER is the minimisation of the CO2 footprint. The company has targeted a 25 per cent reduction of CO₂ emissions per tonne-kilometre by 2020 and has already made good progress. Efforts to improve economical driving behaviour, more efficient route planning, minimisation of empty kilometres and increase the use of intermodal operations when delivering goods over long distances are all supporting achieving this ambitious target.
HOYER is one of the world's leading logistics companies delivering essential commodities that provide continuity to the lives of millions of people. HOYER's future-oriented approach continues to set new standards of operational and environmental performance.