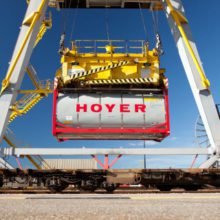 The executive staff of the Deep Sea business unit of HOYER and AAW Global Logistics signed a joint venture contract in May 2018, thus further consolidating this collaboration. The newly founded Melbourne-based company HOYER Logistics Australia will concentrate on developing logistics services in the Australian domestic market. The portfolio of service provisions comprise of the transportation of chemical products, foodstuffs including wine, milk products and cryogenically liquefied gases. In addition, HOYER Logistics Australia will also offer the rental of tank containers and IBCs. Furthermore, flexitank services will be provided as well as fleet management.
The Deep Sea business unit of HOYER has operated in Australia for the past 20 years, and in association with AAW Global Logistics as HOYER Global Agency Australia has offered international logistics services to the overseas market for ISO tank containers, flexitanks and general bulk logistics. The internationally aligned overseas activities will continue to be operated by HOYER Global Agency Australia.
Michael Loscalzo, Director Deep Sea of the HOYER Group and Director of HOYER Logistics Australia, explains that "We value AAW Global Logistics as a strong, dependable partner. Consistent further expansion of our presence in Australia through HOYER Logistics Australia is therefore only a logical step in which HOYER brings know-how and equipment to the joint venture and AAW Global Logistics has optimum networking in the domestic market." Barry Misiurak, Managing Director of AAW Global Logistics, adds "The long-standing collaboration with HOYER in the overseas business area has led to strong brand awareness in Australia. As part of HOYER Logistics Australia, we look forward to enlarging the extensive range of domestic service provisions in the bulk logistics area." The commercial management of HOYER Logistics Australia will be undertaken by Stuart Eastaugh, who will combine it with his role as Commercial Director HOYER Global Agency Australia.
The AAW Global Logistics group of companies has operated in Australia for 35 years and has 200 employees working in ten offices. The group offers both national and international logistics, and shares the values and standards of the HOYER Group with regard to the quality of the services offered. Existing and future customers of the market within Australia will continue to receive the best possible service through HOYER Logistics Australia.