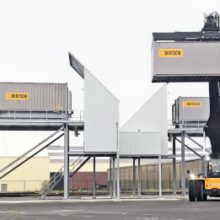 The opening of the hub took place with a small ceremony in the presence of customers and port authorities. With the first containers already arrived and handled in February, the staff can look back on a smooth start of operations over the first few months.
After the acquisition of this area in June 2017, the project for the hub had to be executed on short notice in order to be ready for the first containers arriving at the beginning of this year. The hub consists of a container storage area with a capacity of more than 20'000 tons of product, as well as two tilting platforms for the decanting of 20' and 40' sea bulk containers into 30' European dry bulk containers. The plastic products are stored in these liner boxes at the site itself. For the onward distribution of the products in the same liner boxes, Bertschi offers their unique European wide intermodal transport network. "From the arrival of the plastics in Antwerp, over the decanting and storage to their final distribution within Europe, this new facility gives us the possibility to offer an all-in-one solution to our customers", says Hans-Jörg Bertschi, CEO and Chairman of the Bertschi Group.
Product storage in 30' box containers has various advantages compared to concepts of vertical silos. Whilst working with boxes, the container is used both as cargo transport unit as well as means of storage, whereas the use of vertical silos entails additional transshipments and, therefore, reduced product integrity. The resulting lower number of handlings and the fact that cost is only incurred for bulk material effectively stored in a container concept, reduces the total supply chain costs. At the same time, the concept reduces the carbon footprint by increasing intermodal deliveries.
Also, when it comes to customer service, box containers prove superior. Where vertical silos are fixed to their location, box containers allow storage of the product close to the customer and, therefore, add flexibility to react on changing market needs. "Bertschi was able to demonstrate the advantages of the container concept for our product flows and convinced us to implement this solution. We are very pleased to be the launching customer of the new plastics hub and the startup of the project so far", states Benny Mermans, General Manager EMEA for Chevron Phillips Chemical Company.
The whole area of the 'Antwerp Zomerweg Terminal (AZT)', which also includes a rail terminal, is ideally located right next to the existing Bertschi Antwerp facility in a central part of the Port of Antwerp. It is Bertschi's ultimate goal to develop this 80,000 square meter venue into a trimodal chemical logistics hub with sea and rail connection over the next years. "We are happy to see Bertschi's plans to further develop this strategic area in the Port of Antwerp", states William Demoor, Director Customer Relations Port of Antwerp.