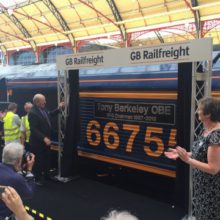 RFG member GB Railfreight (GBRf) organized a special locomotive naming ceremony and marked the occasion with a special train, with the newly named loco 'Tony Berkeley OBE'. The train departed London Victoria on a round trip tour of the Kent countryside and coastline, basking in the summer sunshine, before returning to London for a drinks reception.
Guests came from right across the sector. They were welcomed at the Belmond Lounge, London Victoria, where GBRf MD John Smith and RFG Executive Director Maggie Simpson paid tribute to Lord Berkeley's career. They applauded his tireless work to enhance and support open access, modal shift and the future growth of rail freight by consistently pressing the case both within Westminster and among UK businesses.
Maggie Simpson said: "Tony Berkeley leaves the sector wholly transformed from the one he joined some 21 years ago. His leadership, commitment and sheer determination have been instrumental in delivering that progress. I know I can speak for all RFG members, both past and present, in thanking him for all he has done and wishing him a very happy and well-deserved retirement."
Tony thanked everyone for their support and said he was genuinely surprised and delighted to have a locomotive named in his honour and was grateful for so many people turning out to mark the occasion.
He also took the opportunity to pay tribute to industry stalwart and former RFG Board member Jim Clark, head of rail at W.H Malcolm, who sadly passed away recently.
RFG would like to thank GBRf and all the companies who sponsored the event (Direct Rail Services, DB Cargo, Freightliner, W.H Malcolm and Kilbride.