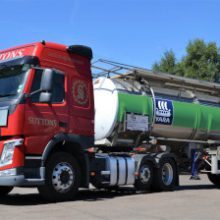 The Widnes-based operator, part of global firm Suttons Group, will be transporting liquid fertiliser for Norwegian company Yara, helping serve farmers across the country.
The new partnership will see Suttons take control of 7 Yara-liveried tankers, carrying fertiliser stocks from ports in the North East and South East of England to storage depots in Yorkshire and Suffolk.
Michael Cundy, managing director, Suttons Tankers said, "As experts in bulk liquid and chemical transportation this is a significant contract for our tanker division, allowing the company to diversify into another new market. We look forward to strengthening our relationship with Yara which is a significant European agriculture firm with a worldwide presence and sales to more than 160 countries."
Daniel Barley of Yara UK commented, ''With safety as our number one priority, we need to be sure that our fertiliser is delivered, safely and on time. We were impressed with Suttons attention to detail and we are looking forward to working with their team in delivering our nutrients to farms across Great Britain.''
Suttons operates in the UK with a fleet of more than 500 vehicles focused on the chemicals, gas and fuel sectors and internationally with key business centres in New Jersey, Houston, Chicago, Widnes, Antwerp, Ludwigshafen, Kuantan, Singapore, Shanghai, Tokyo and Khobar.