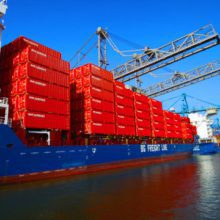 Den Hartogh Logistics specialises in bulk logistics for the chemical, gas, polymer and dry bulk food industry, so to maximise payload and reduce fuel costs, Den Hartogh Logistics specified Volvo Light Concept tractor units with 460hp engines. "The higher engine power resulted in less gear changing and a higher cruising speed, giving us a corresponding reduction in fuel costs," explains Equipment Manager, Erik Groen.
The drivers are positive too. "For the work we do, the Volvo I-Shift is certainly the best transmission available," says one of them. "When you accelerate, brake or negotiate a bend, the load moves in the container, but the Volvo I-Shift gearbox always reacts very well. Furthermore the Volvo FH is very stable on the road with a fast reacting air suspension system, which is very efficient."
Volvo Trucks focus on safety was even as important for Den Hartogh Logistics. Just like Volvo Trucks, Den Hartogh Logistics' safety measures go beyond the legal obligations set by various sets of legislations and regulations since they strongly believe that the industry must consider safety throughout the supply chain.