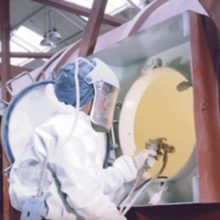 Advanced Polymer Coatings, Inc. (APC), manufacturer of high performance linings for industrial applications, has signed an exclusive North American distribution agreement with Houston-based Strathmore, whereby Strathmore will sell APC-engineered linings for the rail industry. The new agreement, termed 'Partners in Performance', is a significant opportunity to combine the strengths of two companies to bring new custom linings solutions to the rail industry.
Jim DeChant, APC Global Transportation Sales Manager, says that as part of the agreement, Advanced Polymer Coatings will use its well-known and proven ChemLINE® coatings technology to formulate and produce specialty rail linings that will be private labeled to Strathmore, and sold within the Strathmore family of coatings.
According to Mike Wood, Strathmore Director of Rail Sales and Southeast Industrial Sales, "Strathmore already has a well-defined coatings product range for tank and hopper car applications under the respected STRATHOLINER® interior linings brand. Now with APC's technologies, we will be adding new linings to our product offering, that deliver an ultra-high level of performance against corrosion, and be able to handle a wide range of chemicals including Sulfuric Acid, Acetic Acid, 37% Hydrochloric Acid, Methylene Chloride, 50% Sodium Hydroxide and others."
Strathmore will be immediately introducing three new protective linings as part of the agreement. These are: STRATHOLINER® 7840, a lining with superior chemical resistance and high temperature resistance; STRATHOLINER® 7900, a high solids protective lining for application with plural component equipment that can be applied in one or two coats; and STRATHOLINER® 8050, an anti-static lining that provides conductive/static dissipating benefits.
Mr. Wood adds, "This new relationship with APC expands our opportunities in the rail market by giving us new, state-of-the art lining solutions for our customers. We offer a full-service, turn-key approach for every coatings segment of the rail industry. APC will support our efforts by providing technical expertise, cargo testing, and laboratory approvals for various chemicals that our clients want to carry in these new STRATHOLINER® coating systems, so this is win-win situation for everyone involved."