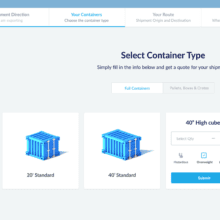 Detailed analysis of over 100 shipments from a cross section of UK industries suggests that UK businesses that trade internationally are wasting over three hours on average per individual shipment. In particular, they found employees are spending time on phone calls and emails to request and funnel data back and forth between their trade partners, the majority of which already exists on partner systems. Across the UK this results in over 100 million hours of time wasted per annum, or the equivalent of 50,000 employees' annual working hours, tied up in procurement, managing suppliers and freight related admin.
The study also suggests that Brexit is likely to exacerbate this efficiency problem further as shipments with non-EU countries involve on average 17% more wasted time than shipments with the EU, owing to the increased communications burden around customs documentation.
The study demonstrates the urgent need for supply chain innovation as a route to solving the productivity puzzle. The adoption of simple technology that helps automate communication can deliver productivity gains now to the tune of £1.5bn per annum. This represents 5% of the UK Government's annual target for productivity gains from digitisation (£30bn per year until 2030). Significant long-term transformation is possible through widespread digital adoption across the supply chain.
Zencargo looks to tackle the productivity issue head on via its comprehensive dashboard that allows supply chain teams to collaborate in real time. Users can book shipments online, track status updates and run analytics to reveal critical supply chain insights. They have just released a Purchase order management feature that can save over an hour per shipment. Their digital solution streamlines communication around a PO, gives procurement teams real-time visibility on their production status, from PO raising to cargo-ready and delivery.
Tom Hook, Supply Chain and Operations Manager at wearable technology giant Catapult commented: "With our customer base ranging from International football teams at the World Cup to Sunday league teams, we have a hugely diverse and complex supply chain, especially when aiming to reach to over 55 countries in the globe. For us implementing Zencargo's technology within the supply chain has had a transformational effect on our business. With the launch of our PLAYR SmartCoach
System they proved invaluable in getting everything in the right place at the right time (more often than not well ahead of schedule), something crucial in allowing us to launch without any issues. Their technology acts like an extension of our team; helping to increase visibility on our supply chain, minimising the amount of admin and communication required and allowing us to focus on developing and improving the way we operate rather than continually chasing it."
Alex Hersham, CEO and Co-Founder of Zencargo added: "Technology is the main building block to bridge the productivity gap in the UK. Lack of communication harms productivity in any business, factor in complicated and often outdated supply chains and problems very quickly escalate. Now is the time to invest and innovative in technology so we can truly compete on the global stage and at the same time benefit on a productivity level."