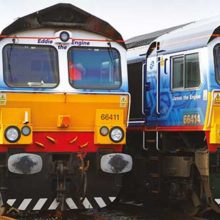 Eddie Stobart, a UK leading supply chain, transport and logistics company, announced the launch of its new train service last month, connecting the Port of Tilbury to Tesco's site in Daventry, and then Daventry to Mossend, Scotland.
Launched on the 3rd September, this is Eddie Stobart's first ever train service to run from the Port of Tilbury, with the capacity to travel with between 30 and 36 containers. Rail continues to be a key focus for Eddie Stobart Logistics due to the reduced carbon emissions. It will now be possible to connect ports in Southern England to central Scotland without the use of roads.
The Eddie Stobart branded train will be running three days a week between the Port of Tilbury and Daventry, and twice weekly from Daventry to Mossend.
John Clark, Sector Director at Eddie Stobart said, "The ability to link London Ports by rail to central Scotland is something we have been looking to launch for some time and the interest in this new service has been extremely encouraging. It's an exciting step that sees Eddie Stobart Logistics continuing to broaden its complete end-to-end logistics offering, while remaining focused on how we can offer environmentally conscious transportation solutions."
The train service is launched as part of a four-month trial, with a view to being rolled out fully in 2019.
Ross McKissock, Asset Manager at London Container Terminal added, "This new service underpins our commitment to provide sustainable and cost effective logistics solutions for our customers, aiding growth and competitiveness in the supply chain. The service is made possible thanks to Eddie Stobart's collaboration with Port of Tilbury, Direct Rail Services, JF Hillebrand and Samskip."