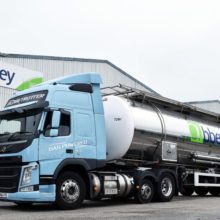 Abbey are no strangers to gas power, having already trialled both compressed natural gas CNG and liquefied natural gas (LNG) fuels on 4×2 axle tractors in back to back tests with their diesel equivalents last year. The tests produced some very positive results with reduced fuel costs and C02 emissions, as well as encouraging driver feedback about the vehicles' drivability and comfort. However, for Abbey to realise the full benefits of gas power, the tractors needed to be able to compete with its regular fleet of 44 tonne units.
Volvo's new LNG FM promises the same fuel efficiency as diesel and the same performance – but with 20% less CO2 emissions, and lower fuel costs. In addition, the new truck only requires the same service intervals as the diesel version.
Why Natural Gas?
Natural gas has a huge potential as a substitute for diesel in trucks. There's a good supply globally and the C02 emissions are considerably lower in comparison to diesel. Operating range is critical for Abbey and Volvo's LNG technology enables an operating range comparable to diesel and perfectly suited to long haul transport with Volvo claiming up to 1,000km per tank in some configurations.
The Technology
Volvo's new G13C engine is based on their diesel engine technology but instead uses approximately 90-95% LNG and 5-10% diesel to ignite the LNG. The proportions of fuel depend on driving conditions.
Filling and Access to Fuel
Filling an LNG truck is a different to diesel but once users are shown this simple procedure they see it is neither complicated or time consuming. Some safety precautions are required due to the need for the LNG to be at a very low temperature. Encouragingly, the network of LNG filling stations is constantly growing throughout the UK and Europe and this is supported by an EU initiative to speed up this expansion.
David Batty Abbey Logistics Fleet Engineer at the time said, "We are very excited to be the first UK tanker company to trial Volvo's new 6×2 tractor. I have been convinced of the potential benefits of gas technology in heavy haulage based on our extensive trials last year, and this new tractor has the potential to be a pivotal moment for us and the wider industry."
Darren Newman, Volvo Group UK's LNG/CNG Account Manager commented, "The Abbey trial is an important milestone for our new LNG technology, it the first true 44 tonne test we have done. I believe our LNG technology will be a game changer because it can deliver diesel comparable torque ratings, so important in bulk transport, whilst significantly reducing operating costs and reducing the climate impact of heavy transport."