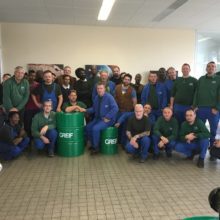 The Hamburg plant continues to lead the way in new product development, designing and producing steel drums to exacting standards with a range of specialist features and accreditations. Ongoing investment in innovation, aligned to a strong focus on customer service has enabled the Hamburg plant to excel during its 90 year history.
Commenting on reaching the 90 year milestone business unit manager, Patrick Mullaney said: "We are immensely proud to have reached such a significant achievement. Over the years the business has risen to the challenges and thanks to ongoing investment from the group and the expertise of our talented team, we have become the successful business we are today. The business has a really strong team spirit and is committed to attracting and retaining talented individuals. We have employees that have been with us for 40 years and I am delighted to add that we continue to attract the very best people and talent."
With over 13,000 employees at more than 200 locations situated across over 40 countries worldwide, Greif is a leading global supplier of industrial packaging solutions. Established over 140 years ago it has an annual revenue of $3.7 billion.