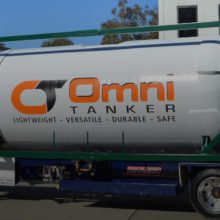 Eurotainer chose Omni Tanker due to its years of expertise in composites, a superior composite technology and a willingness to work with Eurotainer to build tank containers that meet the needs of our global client base. In turn, Omni Tanker was looking for a tank container leasing company that could help them expand globally. Omni and Eurotainer are now working together to provide a product that offers a lightweight alternative to lined/coated steel tank containers.
Omni Tanker is one of the world's leading composite technology and manufacturing companies, owning proprietary composite materials technology, applied to the manufacture of high technology composite tanks with chemical resistance and low tare weight for bulk transportation of corrosive and high purity chemicals. It is these two primary attributes that separate Omni Tanker from the competition and makes their product the perfect choice for Eurotainer.
A Eurotainer spokesperson stated, "The ability to offer our clients a safe, lightweight, durable, easy-to-clean and versatile composite tank container has been a goal of ours for some time. Omni Tanker has delivered with break-through technology that will transform the tank container industry – a perfect fit for Eurotainer's vision and commitment to provide innovative high purity and corrosive chemical tank container equipment to its global customer base. The selection of Omni Tanker is in line with Eurotainer's strategy to be the global leader in specialized tank containers.
Eurotainer unveiled the new composite tanks at their recent Customer Technical Day event in Houston, Texas USA.