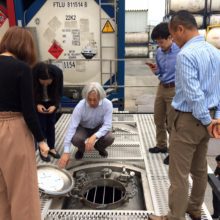 The company was formed in 1998 as a joint venture with UK-based Suttons International, global experts in the delivery of products and services to the chemicals, gases, fuels and food sectors.
To mark the occasion, Suttons' CEO John Sutton, MD Barry McNally and Asian Regional Director Jeroen Rozendal visited Japan for an event in Tokyo, with Suttons Japan MD Takemitsu Hayashi and his team, along with key customers and suppliers.
Suttons Japan signed its first contract in 1999 and has since gone from strength to strength, expanding into larger offices whilst increasing its workforce.
In 2007, the founder and MD of Suttons Japan, Hidekatsu Hayashi, retired from the business with his son, Takemitsu Hayashi, taking over as MD and leading the company to continued success.
John Sutton, CEO of Suttons Group said, "It was an honour to visit Japan and celebrate with our team in Tokyo. This milestone and the success that Suttons Japan has achieved is a real credit to them… here's to 20 more years!"
Takemitsu Hayashi, managing director of Suttons Japan commented, "I'm so pleased that we could share this important event with our colleagues, customers and suppliers. We couldn't have reached this anniversary without their support, in fact, a number of customers attending the celebration have been working with Suttons Japan since we started. Customer care is something our team dedicates itself to, so it was especially pleasing to hear so many clients at our anniversary event say how much they appreciate the service we offer. I look forward to many more years working closely with Suttons International and building upon this strong platform we have created together."