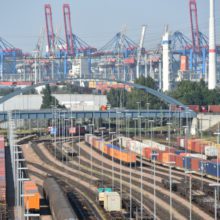 In the Port of Hamburg, railborne container transport achieved a distinct advance of 4.3 percent in the first nine months of the year. A total of 1.8 million TEU – 20-ft standard containers – were transported by rail between the port and inland inter-modal terminals. In the first three quarters of 2018, the previous year's figures were therefore exceeded, even beating the records set in 2016. Landside seaport-hinterland traffic by rail therefore advanced especially strongly. That caused a jump in the most environment-friendly means of transport's share of the modal split from 42.5 to 44.9 percent.
The direct rail services between China and Hamburg not involving any sea transport also grew in 2018. Around 235 container train services are now offered weekly between Hamburg and 27 destinations in China. "Hamburg as Germany's top China centre functions as the New Silk Road's point of arrival and departure. In addition to more than 110 liner services with worldwide seaports, the Hamburg logistics region offers optimal conditions for rail, truck and inland waterway distributor transport, and for clearing air freight," said Axel Mattern, Joint CEO of Port of Hamburg Marketing.
In the first nine months of the year a total of 4.1 million TEU crossed the quay walls in the Port of Hamburg in landside seaport-hinterland traffic. The 1.3 percent downturn on the previous year can be rated as slight, and was mainly attributable to empty boxes (54.0 percent). In the first nine months of 2018, the container segment's share of the Port of Hamburg's hinterland traffic rose to 62.1 percent of total handling.
In the first nine months of 2018, the Port of Hamburg achieved total throughput of 100.8 million tons. That corresponds to a modest downturn of 3.4 percent, with the rate of decrease further slowing in the third quarter. General cargo throughput at 68.6 million tons – down 2.3 percent and bulk cargo throughput at 32.2 million tons – down 5.6 percent – contributed towards the overall result for Hamburg. Bulk cargo accounts for some one-third of total throughput. Around 54 percent of the downturn was attributable to this segment, where market factors caused downturns in both suction and liquid cargoes. Throughput of grab cargoes – with a share of around 55 percent or 17.6 million tons, the largest sub-segment – grew by 0.3 percent, representing slight growth within the normal range of fluctuation.
Down by 6.6 million TEU, or 2.4 percent, container throughput in the first nine months of 2018 was slightly below the previous year's. Around 58 percent of the fall was caused by a drop in the number of empty boxes handled. In the 2018 first half, 830,000 TEU – empty containers – were handled, representing a 10.1 percent downturn. For boxes loaded with general cargo, throughput volume at 5.8 million TEU was just 1.2 percent below the previous year's level.
"A glance at the throughput trend in the first nine months reveals continuing stable growth in railborne seaport-hinterland transport. At around 625,000 TEU, the third quarter was by a wide margin the best-ever quarter in the history of the Port of Hamburg Railway. By contrast the throughput trend for loaded and empty containers in the first three quarters shows that the Port of Hamburg is handling less transhipment cargo, and here in particular, fewer empty containers. In a tough competitive field, the proportion of loaded containers remains stable, and we estimate that next year already, with the inauguration of four container liner services to the US East Coast, it should markedly improve," explained Ingo Egloff, Joint CEO of Port of Hamburg Marketing. "By contrast with loaded boxes for the metropolitan region, also loaded boxes generally, transhipment cargo on feeder services and empty containers are less tied to specific ports. We therefore hope that with the fairway adjustment of the Lower and Outer Elbe on which a start has now been made, better nautical accessibility will be achieved for Germany's leading universal port, leading to more cargo being handled in Hamburg," said Egloff.
The downturn in container handling in the first nine months was primarily concentrated on services to Europe and North America, down by 4.4 and 26.2 percent, respectively, on the same period of the previous year. By contrast the trend was particularly positive on container services with the East Coast of South America, up by 25.7 percent; North Africa, up by 22.7 percent; Israel, up by 35.2 percent; Turkey, up by 32.6 percent; the West Coast of North America, up by 36.9 percent; Sweden, up by 15.8 percent; Brazil, up by 30.4 percent; Taiwan, up by 9.2 percent; and Thailand, up by 123.6 percent.
"Good results on container transport with these countries and regions did not offset downturns on other trade routes with Europe and America. We expect positive momentum for container throughput with the arrival in Hamburg of four new transatlantic liner services. New to Hamburg, these will provide splendid links with ports on the US East Coast and also in Mexico," said Axel Mattern, Joint CEO of Port of Hamburg Marketing.
In Mattern's view, this will also favour an increase in transhipment with the Baltic region, which is so important for Hamburg. In terms of transport geography, the Port of Hamburg's rapid and close links with the Hamburg Metropolitan Region make it the ideal hub for cargo arriving or leaving there, and on the other hand, the short link through the Kiel Canal makes it an ideal handling centre for transhipment cargo in the Baltic region