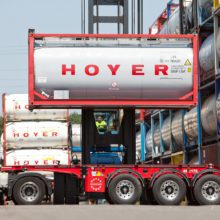 Explaining the doubling of the investment volume planned for 2019, Gerd Peters, Chief Financial Officer (CFO) of the HOYER Group, says "The sustained positive business development enables this financial tour de force." According to Peters: "We have identified promising investment projects in all business areas for HOYER. This has resulted in a comprehensive investment package spread across the business development, property, plant and equipment, acquisitions and replacement investments business areas."
The international logistics company has placed emphasis on further development of the successful digitalisation initiative. As a pioneer in digital logistics, the company is already working intensively on tomorrow's solutions. The core of this task consists of successively equipping tank containers with innovative telematics systems and intelligent networked software. As in the past, HOYER continues to invest a considerable volume in property, plant and equipment: around one third of financial resources will be used to modernise and enlarge the tank container fleet for intermodal business and overseas activities. The number of tank containers and IBCs (Intermediate Bulk Containers) for the rental business has also being increased significantly.
The HOYER Group allocates its investments primarily in business areas with attractive future prospects. The increasing volume of orders reinforces the company to further expand the Supply Chain Solutions (SCS) business line internationally. In the coming years, on-site logistics activities in particular will be driven forward and, initially in Germany and the Netherlands, the construction of a dangerous goods warehouse and an enlargement of the filling operations for small containers will be implemented. The logistics company has budgeted a double-digit millions amount for possible acquisition projects such as company purchases and joint ventures. The extensive investment plan will be complemented by annual replacement investments.