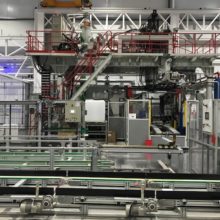 Greif's new investment includes a fully automated line, ensuring timely and uninterrupted delivery of IBCs. An additional investment has also been made in a new state of the art and fully automated warehouse where filled IBCs are stored. The upgraded facility is now equipped to produce the full Greif GCUBE portfolio, currently available across 12 sites around the globe. The San Roque facility will be well placed to deliver high-quality products to the olive oil industry, one of the most important economies in the region with production of the GCUBE IBCs having begun and expected to reach up to 150,000 units per year.
The Mayor of San Roque, Juan Carlos Ruiz Boix, officially opened the newly refurbished facility and commented, "The new plant represents a significant investment in the Cadiz region bringing both environmental and economic benefits."
Joaquim Duarte, Greif General Manager Iberia, added, "This is a significant step forward for Greif and the local economy. It will allow us to better serve our customers and local market demands in southern Spain as well as the North African markets of Morocco, Algeria and Tunisia."
Greif entered the IBC market with the acquisition of Fustiplast in 2010 and in the last eight years has become the fastest growing and highest investing company on IBC production.