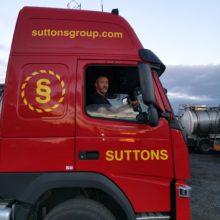 Truckers Who Run is a community-focused Facebook group which offers support, advice and ideas to any drivers who want to get out of the cab and get fitter. The group was created by Lee Gibson, a driving trainer instructor based in Suttons' Stockton-On-Tees depot, who reckoned he couldn't be the only UK trucker who would benefit from a dedicated place to discuss lifestyle, diet tips and fitness advice. The aim of the group is to create a network of friendly truck drivers who are able to offer support, lifestyle and fitness tips, while answering any queries members might have.
Lee Gibson, founder of Truckers Who Run, said, "It's great to see this idea I had one day sitting in a truck has blossomed and is now helping drivers all over the country. We can advise our members on good places to run near where they've parked up for the night, offer them motivation when they're finding it tough to exercise and provide a place to air worries and stresses, because mental health is just as important as physical fitness. Our membership has grown to over 2,000, and we've even launched our own Truckers Who Run clothing range, available to order through the group."
Steve Hassall, operations director for Suttons Tankers, commented, "Suttons fully supports Lee with his campaign to assist drivers who are trying to improve and maintain their health and fitness. We encourage our drivers to join his online community and are backing this up with a series of well-being campaigns each month aimed at staff."
Join the Truckers Who Run community by logging into Facebook and searching for 'Truckers Who Run' and then joining the group.